Weekend Blog Follower Caravan #16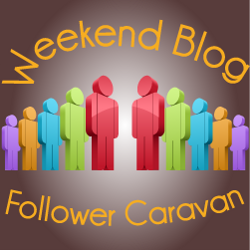 Hi fellow bloggers! I'm finally back on WBFC! I didn't know that I've already missed a lot. But what's important is that I'm joining again. Thanks to Zoan, for "recruiting" me! LOL!
By the way, together with this WBFC, Mommy Rubz is giving away $5 to the top 3 referrer. Nice, right?! You can join too, but don't forget to indicate that you were referred by aine. *wink* :)
Here are the tasks for this week:
1. You must follow our sponsors Filipina Blogger and OnlineBiz and Resources.
2. Make a welcome post for others to comment on.
3. Comment on the WBFC # 16 welcome post if you have followed. If you are already a follower, just leave a comment.
4. ONE BLOG per BLOGGER or TWO BLOGS per TWO GFC Accounts, THREE BLOGS per THREE GFC Accounts!
What are you waiting for? Visit the Weekend Blog Follower Caravan page and join the fun!
Weekend Blog Follower Caravan #16
Reviewed by
Aine Garcia
on
Sunday, July 03, 2011
Rating: