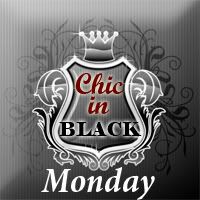 Happy Monday!
Well, I'm a few hours late for my post but as they say "better late than never". This is my first time to join the Chic in Black Monday hosted by My Tots Exactly! I'm so excited to be a part of it since my favorite color is BLACK! Yup, that's me! :) In fact, that's also the meaning of my name. So I'm proud of it! And another one, my yahoo email address has the word "black" and "chic"! LOL!
So here's my first entry, a Heatwave shoes that I bought 2 years ago. I just can't remember how much, but I definitely bought this on sale. :)
This is the perfect shoes for my office attire. Makes me look and feel good!
I so missed wearing this 'coz I've been staying at home for more than a year already. And I only wear flip flops when I go to the mall. Maybe, soon.. :)
'Til next Monday.
♥
Chic in Black Monday #9
Reviewed by
Aine Garcia
on
Monday, July 04, 2011
Rating: